Product Summary
The CY7B923JC HOTLink Transmitter is a point-to-point communication building block that transfers data over high-speed serial links (fiber, coax, and twisted pair). Standard HOTLink data rates of the CY7B923JCrange from 160-330 Mbits/second. Higher speed HOTLink of the CY7B923JC is also available for high speed applications (160-400 Mbits/second), as well as for those Low Cost applications HOTLink-155 (150-160 Mbits/second operations). Eight bits of user data or protocol information are loaded into the HOTLink transmitter and are encoded. Serial data of the CY7B923JC is shifted out of the three differential positive ECL (PECL) serial ports at the bit rate (which is 10 times the byte rate).
Parametrics
CY7B923JC maximum ratings: (1)Storage Temperature: -65℃ to +150℃; (2)Ambient Temperature with Power Applied: -55℃ to +125℃; (3)Supply Voltage to Ground Potential: -0.5V to +7.0V; (4)DC Input Voltage: -0.5V to +7.0V; (5)Output Current into TTL Outputs (LOW): 30 mA; (6)Output Current into PECL outputs (HIGH): -50 mA; (7)Static Discharge Voltage >4001V; (8)Latch-Up Current >200 mA.

Features
CY7B923JC features: (1)Fibre Channel compliant; (2)IBM ESCON compliant; (3)DVB-ASI compliant; (4)ATM compliant; (5)8B/10B-coded or 10-bit unencoded; (6)Standard HOTLink: 16030 Mbps; (7)High Speed HOTLink: 16000 Mbps for high speed applications; (8)Low Speed HOTLink: 15060 Mbps for Low Cost Fiber applications; (9)TTL synchronous I/O; (10)No external PLL components; (11)Triple PECL 100K serial outputs; (12)Dual PECL 100K serial inputs; (13)Low power: 350 mW (Tx), 650 mW (Rx); (14)Compatible with fiber-optic modules, coaxial cable, and twisted pair media; (15)Built-In Self-Test; (16)Single +5V supply; (17)28-pin SOIC/PLCC/LCC; (18)0.8m BiCMOS.

Diagrams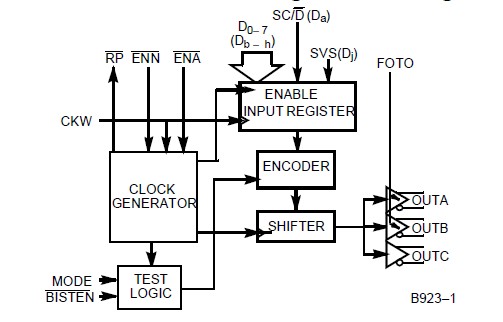 CY7B

Crystek Corporation

Crystals 7.3728MHz Series 0C +70C

Data Sheet



| | |
| --- | --- |
| 0-1000: | $0.26 |
| 1000-2000: | $0.25 |
| 2000-4000: | $0.23 |
| 4000-8000: | $0.22 |


CY7B131

Other



Data Sheet

Negotiable

CY7B134

Other



Data Sheet

Negotiable

CY7B138

Other



Data Sheet

Negotiable

CY7B8392

Other



Data Sheet

Negotiable

CY7B9234

Other



Data Sheet

Negotiable