Product Summary
The GS-R405/2 is a kind of small sized high current, high voltage step-down switching regulator. The integral heatsink allows a large power handling capability and it provides also an effective shielding to minimize EMI.
Parametrics
GS-R405/2 absolute maximum ratings: (1)Vi, DC Input Voltage: 42 V; (2)Io, Output Current: 4 A; (3)Tstg, Storage Temperature Range: -40 to +105℃; (4)Tcop, Operating Case Temperature Range: -20 to +85℃.
Features
GS-R405/2 features: (1)MTBF in excess of 500,000 hours; (2)4A max output current; (3)40V max input voltage; (4)4V max drop-out voltage; (5)Soft start; (6)Non-latching short circuit protection; (7)Crow-bar output overvoltage protection.
Diagrams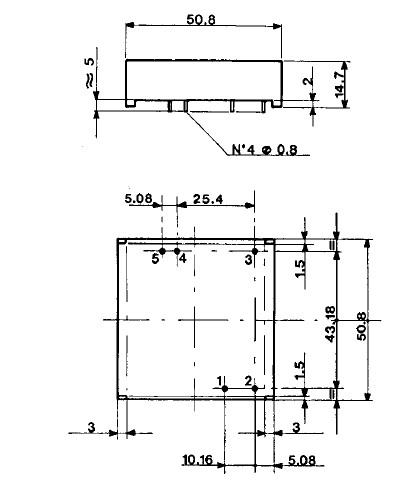 Image
Part No
Mfg
Description
Pricing
(USD)
Quantity

GS-R405/2

STMicroelectronics

Switching Converters, Regulators & Controllers 5.1 Volt Step-Down

Data Sheet

Negotiable
Image
Part No
Mfg
Description
Pricing
(USD)
Quantity

GS-R1005

STMicroelectronics

Switching Converters, Regulators & Controllers 5.0 Volt Step-Down

Data Sheet

Negotiable

GS-R1012

STMicroelectronics

Switching Converters, Regulators & Controllers 12 Volt Step-Down

Data Sheet

Negotiable

GS-R12F

Other



Data Sheet

Negotiable

GS-R12F0002.0

STMicroelectronics

Switching Converters, Regulators & Controllers 2 A DC-DC CONVERTER MODULE

Data Sheet



| | |
| --- | --- |
| 0-1: | $8.54 |
| 1-10: | $7.80 |
| 10-100: | $6.63 |
| 100-250: | $5.85 |


GS-R12FP

Other



Data Sheet

Negotiable

GS-R12FS0001.9

STMicroelectronics

Switching Converters, Regulators & Controllers 1.9 A DC-DC CONV MODULE

Data Sheet



| | |
| --- | --- |
| 0-1: | $4.79 |
| 1-10: | $4.31 |
| 10-100: | $4.07 |
| 100-250: | $3.83 |