Product Summary
The MPX2200AP is a silicon piezoresistive pressure sensor providing a highly accurate and linear voltage output-directly proportional to the applied pressure. The sensor is a single monolithic silicon diaphragm with the strain gauge and a thin-film resistor network integrated on-chip. The chip is laser trimmed for precise span and offset calibration and temperature compensation. The applications of the MPX2200AP include Pump/Motor Controllers, Robotics, Level Indicators, Medical Diagnostics, Pressure Switching, Barometers, Altimeters.

Parametrics
MPX2200AP absolute maximum ratings: (1)Overpressure (P1 > P2) Pmax: 400 kPa; (2)Burst Pressure (P1 > P2) Pburst: 2000 kPa; (3)Storage Temperature, Tstg: -40 to +125℃; (4)Operating Temperature, TA: -40 to +125℃.

Features
MPX2200AP features: (1)Temperature Compensated Over 0℃ to +85℃; (2)Patented Silicon Shear Stress Strain Gauge; (3)±0.25% Linearity (MPX2200D); (4)Easy to Use Chip Carrier Package; (5)Available in Absolute, Differential and Gauge Configurations.

Diagrams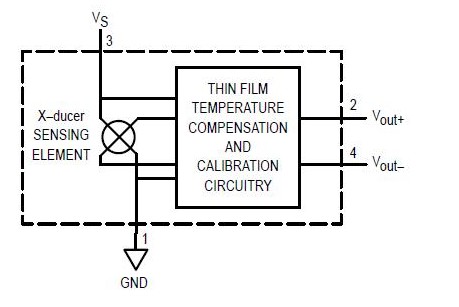 Image
Part No
Mfg
Description
Pricing
(USD)
Quantity

MPX2200AP

Freescale Semiconductor

Board Mount Pressure / Force Sensors PRES SEN COMP 200KPA

Data Sheet



| | |
| --- | --- |
| 0-1: | $6.50 |
| 1-25: | $5.87 |
| 25-50: | $5.02 |
| 50-100: | $4.07 |

Image
Part No
Mfg
Description
Pricing
(USD)
Quantity

MPX200

Other



Data Sheet

Negotiable

MPX2010

Other



Data Sheet

Negotiable

MPX2010D

Freescale Semiconductor

Board Mount Pressure / Force Sensors PRES SEN COMP 10KPA

Data Sheet



| | |
| --- | --- |
| 0-1: | $6.50 |
| 1-25: | $5.87 |
| 25-50: | $5.02 |
| 50-100: | $4.07 |


MPX2010DP

Freescale Semiconductor

Board Mount Pressure / Force Sensors PRES SEN COMP 10KPA

Data Sheet



| | |
| --- | --- |
| 0-1: | $5.33 |
| 1-25: | $4.82 |
| 25-50: | $4.12 |
| 50-100: | $3.34 |


MPX2010GP

Freescale Semiconductor

Board Mount Pressure / Force Sensors PRES SEN COMP 10KPA

Data Sheet



| | |
| --- | --- |
| 0-1: | $6.50 |
| 1-25: | $5.87 |
| 25-50: | $5.02 |
| 50-100: | $4.07 |


MPX2010GS

Freescale Semiconductor

Board Mount Pressure / Force Sensors PRES SEN COMP 10KPA

Data Sheet



| | |
| --- | --- |
| 0-1: | $6.50 |
| 1-25: | $5.87 |
| 25-50: | $5.02 |
| 50-100: | $4.07 |