Product Summary
The XC3S400AN-4FG400C is a Field-Programmable Gate Array. It is specifically designed to meet the needs of high volume, cost-sensitive consumer electronic applications. It offers densities ranging from 50,000 to five million system gates.
Parametrics
XC3S400AN-4FG400C absolute maximum ratings: (1)VCCINT, Internal supply voltage: -0.5 to 1.32 V; (2)VCCAUX, Auxiliary supply voltage -0.5 to 3.00 V; (3)VCCO, Output driver supply voltage -0.5 to 3.75 V; (4)VREF, Input reference voltage -0.5 to VCCO+0.5 V; (5)TSOL, Soldering temperature: 220℃max.
Features
XC3S400AN-4FG400C features: (1)Revolutionary 90-nanometer process technology; (2)Very low cost, high-performance logic solution for high-volume, consumer-oriented applications; (3)Abundant logic cells with shift register capability; (4)Wide multiplexers; (5)Fast look-ahead carry logic; (6)Dedicated 18 x 18 multipliers; (7)JTAG logic compatible with IEEE 1149.1/1532 specifications.
Diagrams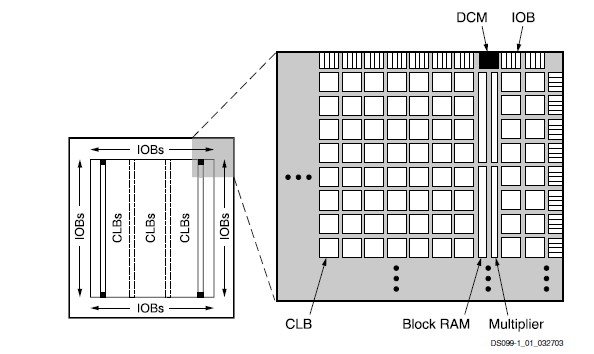 XC3S1000

Other



Data Sheet

Negotiable

XC3S1000-4FG456I



IC FPGA SPARTAN 3 456FBGA

Data Sheet



XC3S1000-4FG676I



IC FPGA SPARTAN 3 676FBGA

Data Sheet



XC3S1000-4FGG320C



SPARTAN-3A FPGA 1M STD 320-FBGA

Data Sheet



XC3S1000-4FGG320I



IC SPARTAN-3A FPGA 1M 320-FBGA

Data Sheet



XC3S1000-4FGG456C



IC SPARTAN-3 FPGA 1M 456-FBGA

Data Sheet



| | |
| --- | --- |
| 0-1: | $37.26 |
| 1-25: | $32.40 |
| 25-100: | $28.17 |