Product Summary
The HCNW3120 is a drive Optocoupler. The HCNW3120 contains an AlGaAs LED. The LED is optically coupled to an integrated circuit with a power output stage. HCNW3120 is ideally suited for driving power IGBTs and MOSFETs used in motor control inverted applications. The high operating voltage range of the output stage provides the drive voltages required by gate controlled devices. The voltage and current supplied make it ideally suited for directly driving IGBTs with ratings up to 1200 V/100 A. It has the highest insulation voltage of VIORM = 1414 V peak in the VDE 0884.

Parametrics
HCNW3120 absolute maximum ratings: (1)Storage Temperature: -55 to 125℃;(2)Average Forward Input Current: 25mA;(3)Average Output Current: 8mA;(4)Peak Output Current: 16mA;(5)Supply Voltage: -0.5 to 30V;(6)Output Voltage: -0.5 to 20 V;(7)Output Power Dissipation: 100mW.

Features
HCNW3120 features: (1)short propagation delays for TTL and IPM applications; (2)15 kV/ms minimum common mode transient immunity at VCM = 1500 V for TTL/load drive; (3)high CTR at TA = 25℃; (4)electrical specifications for common IPM applications; (5)TTL compatible; (6)guaranteed performance from 0℃ to 70℃; (7)open collector output; (8)available in 8-pin DIP, SO-8, wide-body packages.

Diagrams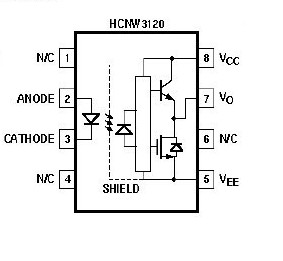 Image
Part No
Mfg
Description
Pricing
(USD)
Quantity

HCNW3120

Avago Technologies

Logic Output Optocouplers 1Ch 10mA 700mW

Data Sheet



| | |
| --- | --- |
| 0-170: | $1.86 |
| 170-250: | $1.67 |
| 250-500: | $1.58 |
| 500-1000: | $1.49 |


HCNW3120#300

Avago Technologies

Logic Output Optocouplers 1Ch 10mA 700mW

Data Sheet



| | |
| --- | --- |
| 0-1: | $2.59 |
| 1-25: | $2.12 |
| 25-100: | $1.88 |
| 100-250: | $1.70 |


HCNW3120-000E

Avago Technologies

Logic Output Optocouplers 1Ch 10mA 700mW

Data Sheet



| | |
| --- | --- |
| 0-1: | $2.56 |
| 1-25: | $2.09 |
| 25-100: | $1.86 |
| 100-250: | $1.67 |


HCNW3120-300E

Avago Technologies

Logic Output Optocouplers 1Ch 10mA 700mW

Data Sheet



| | |
| --- | --- |
| 0-1: | $2.59 |
| 1-25: | $2.12 |
| 25-100: | $1.88 |
| 100-250: | $1.70 |


HCNW3120-500E

Avago Technologies

Logic Output Optocouplers 1Ch 10mA 700mW

Data Sheet



| | |
| --- | --- |
| 0-420: | $1.70 |
| 420-500: | $1.60 |
| 500-750: | $1.60 |
| 750-1000: | $1.51 |


HCNW3120#500

Avago Technologies

Logic Output Optocouplers 1Ch 10mA 700mW

Data Sheet



| | |
| --- | --- |
| 0-420: | $1.70 |
| 420-500: | $1.60 |
| 500-750: | $1.60 |
| 750-1000: | $1.51 |